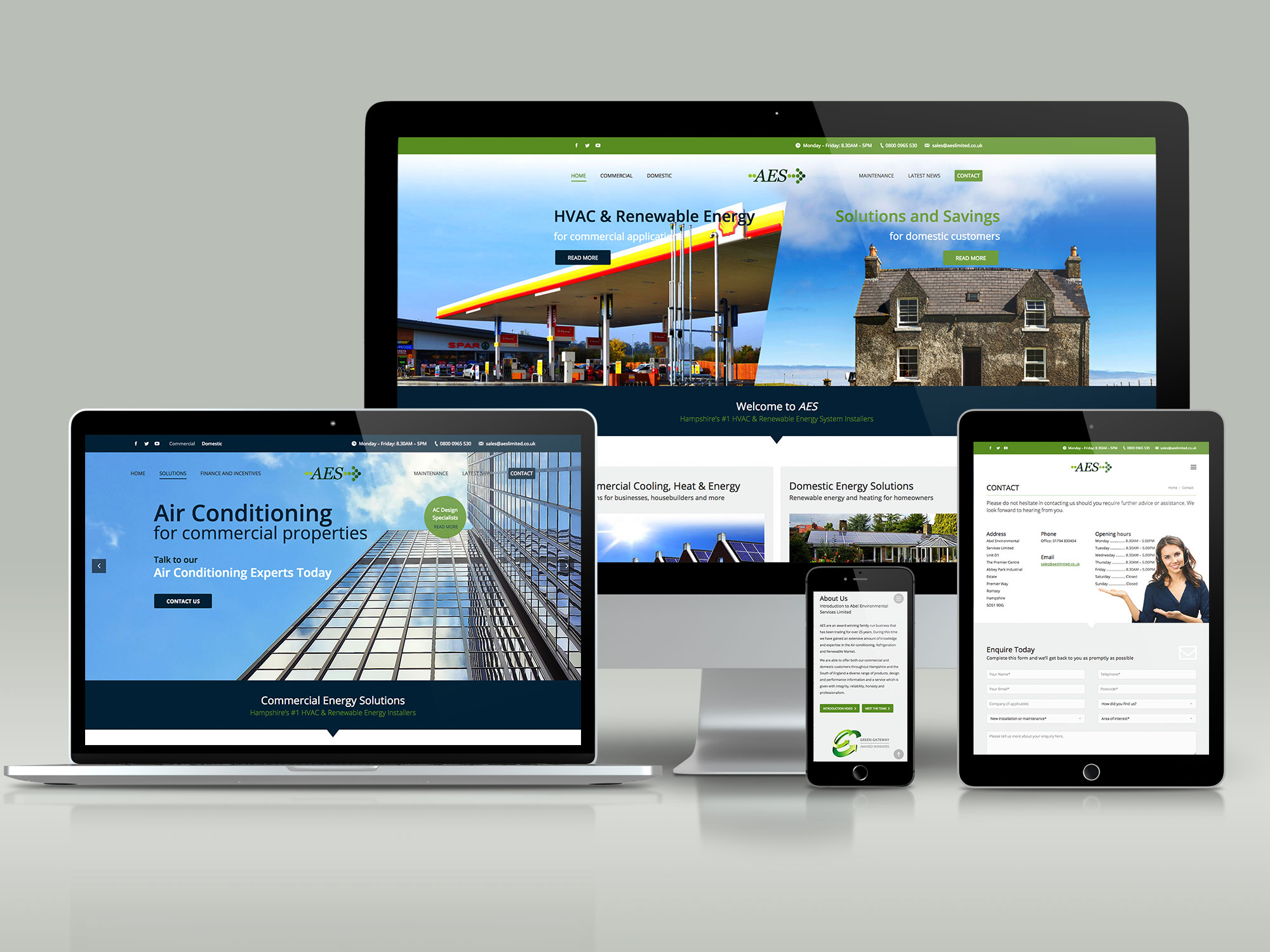 Client: Abel Environmental Services Limited
Task: New Website for HVAC & Renewable Energy System Installers
Technology / Framework: WordPress
Background: AES are one of Hampshire's foremost HVAC & renewable energy system installers.They serve 2 distinct types of client bases each with particular product sets; on the one hand commercial clients and house-builders, and on the other domestic customers for renewable energy solutions.
By virtue of the diversity of these client bases, we decided early on in the project scoping exercises that the language and messaging we used on the site for each customer base needed a separate approach to achieve the best user-experience.
This involved a considerable amount of work up-front with the client to help them reorganise their copy, but the reward was a site with a very clear content structure that's intuitive and highly user-friendly. We helped copy-write the final content and with image sourcing also.
To achieve this the new website makes this division of information obvious from the outset. From the homepage visitors are offered the choice of exploring either commercial or domestic solutions. Furthermore once a visitor has selected one of these paths, the colour scheme is specific to that content zone on the site. In this case blue for commercial, and green for domestic.
Both commercial and domestic solutions have their own unique homepages, which feature contextual navigation, products, services, and news. Furthermore it allowed us to make relevant calls to action and offers. The site also features an instant chat system to provide visitors with a way to get instant access to staff and information for what are typically complex products.
This discrete structure also helped us work on the SEO more easily by filtering out the noise of irrelevant content, and improving the density and value of cross-linked data.
With the launch of a relatively large site of some 30+ pages, which has been completely overhauled, it takes a while understand how the search engines will react to your content and structure. After a wait of 2-3 months, we could see that the initial results were extremely good for most terms and that by virtue of competition and other factors, there were search terms we could improve on.
After refinement and the addition of focused articles, a few months on and the site ranks #1 on Google for their primary function; 'hvac hampshire', and ranks on the first page / top 10 results for virtually all of their other desired regional searches including: 'ac installers', 'solar pv installers' and much more. We've also achieved first page rankings for all of their associated services like 'maintenance' and 'repair'.
It's worth pointing out that SEO is a moveable feast. Competitors will often react to diminished rankings and there are a host of other factors that can erode ranking over time too. We support AES on an ongoing basis to review over 100 unique search terms and phrases, so that we can provide regular help to refine and enhance results where we would like to improve their search standing for given terms.